On January 1, 2014, Colorado became the first state to legalize the purchase and consumption of recreational marijuana, followed by Washington soon after. As the reins on medicinal and recreational marijuana use loosen, a new market has begun to emerge for potential investors. Here's a rundown on the debate about investing in marijuana stocks:
Proponents
According to Todd Harrison, CEO and founder of financial media company Minyanville, we should expect to see the legalization of marijuana as an upcoming political trend for the following reasons:
Legalizing marijuana will increase state tax revenue. Colorado, the first state to legalize marijuana, is expecting $134 million this fiscal year from marijuana alone.
Decriminalizing marijuana will decrease the crime rate and lower the prison population. Many crimes in the United States are marijuana related – whether it be possession or dealing. Legalizing marijuana would lower costs and allow the state to apply funds in other areas.
According to the New York Times, half of the states are currently considering legalizing marijuana, and 20 states already allow the use of medicinal marijuana. So far, only Colorado and Washington have legalized recreational marijuana use. However, a report by research firm Arcview Group reveals that the legal marijuana market is expected to grow approximately 64% this year, from $1.44 billion to $2.34 billion.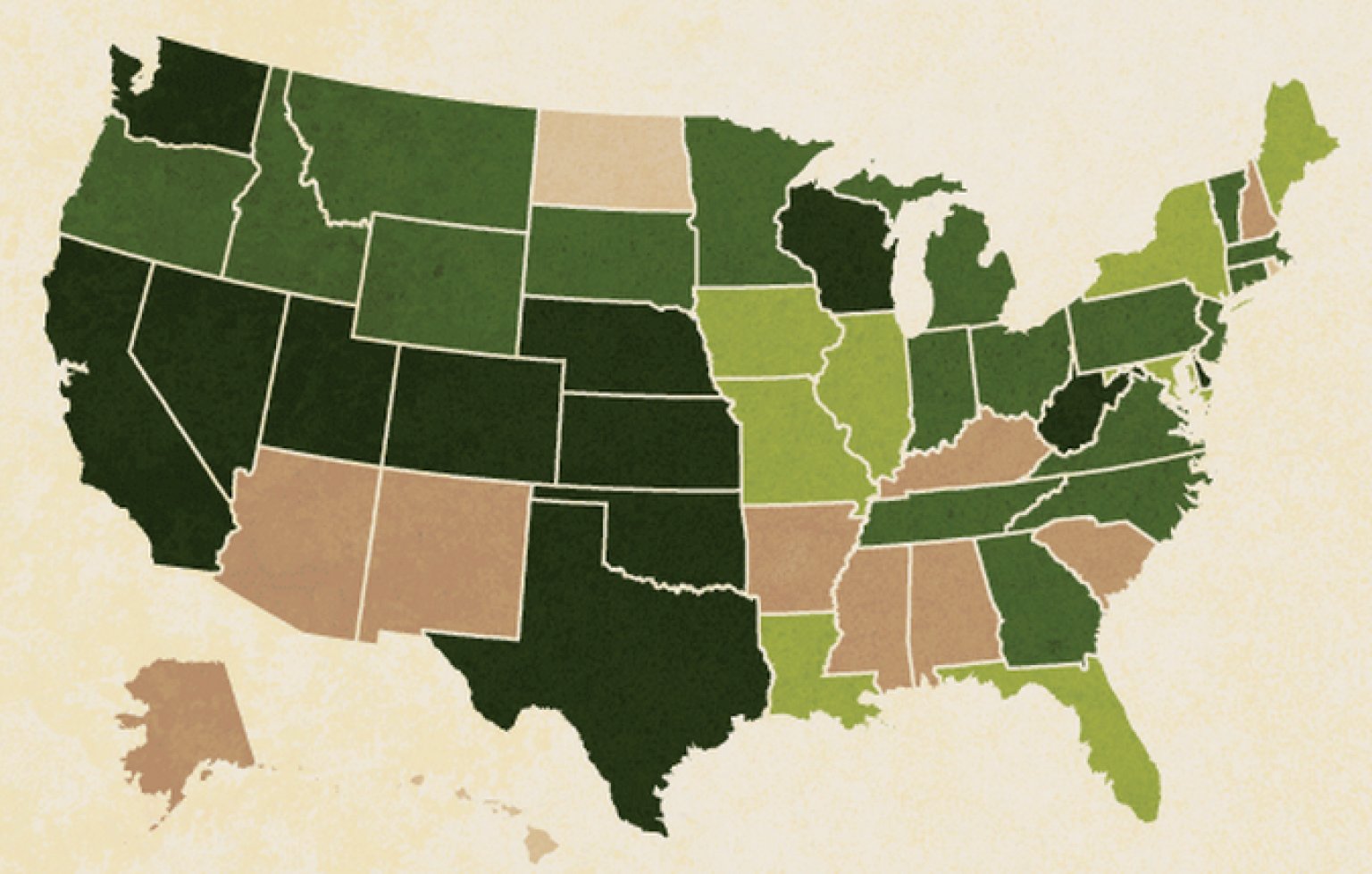 Harrison argues that as more states legalize marijuana, investing in cannabis will become more mainstream and Wall Street will begin to cover the market. He specifically makes a disclaimer against marijuana penny stocks. Instead, Harrison suggests following more legitimate medical marijuana companies, such as GW Pharmaceuticals ($GWPH) which has soared over 500% since last summer.
According to Harrisson, "marijuana will be the single best investment idea of the next decade."
Opponents
On the other end, opponents include MarketWatch writer Cody Willard, who believes marijuana stocks are a magnet for scams. Most marijuana stocks traded today are penny stocks, which generally imply riskier investments. According to Willard, medicinal marijuana companies are just as risky as their penny stock alternative and require intensive research and evaluation:
I mean meeting management and seeing if they actually have the marijuana assets and products they say they have and going through their financials and all kinds of extra stuff we don't have to do for example on our Apple or Sandisk positions per se.
Others see marijuana stocks as the new Bitcoin:
As with the people who bought Bitcoin stakes once they saw the price spiking, most of the people investing in weed companies right now have no actual interest in the underlying assets. They're speculating, on the theory that as marijuana gets legalized in more and more places, some of these companies might actually start turning a profit.
Furthermore, because marijuana is not yet fully legalized, there is a lot of potential for criminal activity. Those unfamiliar with the marijuana industry would be more likely to get scammed. Finra has actually warned potential investors that the main leaders of marijuana companies may also have criminal backgrounds. For example, one CEO of a current hemp company was once imprisoned for nine months for leading "one of the largest drug-smuggling operations in history."
Similar to Bitcoin, the marijuana industry can lead to scam, theft, and downfall.
Weed Stocks to Watch
If you're interested in investing in marijuana companies, here are a few stocks to watch (as suggested by MSN Money):
MedBox ($MDBX) – Medbox makes automated dispensing solutions for medications, including medicinal marijuana. Medbox has the largest market capitalization of cannabis focused stocks (~1.2 billion). Shares rose from $23 to $93 in five trading session, peaking on January 8th.
Advanced Cannabis Solutions ($CANN) – Based in Colorado, Advanced Cannabis Solutions buys growing facilities and leases them to marijuana growers for a 10 year contract with an ROI of over 25%. The company is also looking to expand into consulting with other marijuana-related businesses.
Cannabis Sciences ($CBIS) – Although they possess one of the smallest market caps of $70 million, Cannabis Sciences is one of the most followed weed stocks. They are in the lead in THC product research for medicinal markets, with two of their preclinical drugs focusing on HIV and cancer.
GW Pharma ($GWPRF) – GW Pharma has one of the largest market caps at $930 million and is one of the few cannabis stocks that trades on a major exchange (NASDAQ). They focus on developing cannabinoid medications for multiple sclerosis and cancer.
Overall, marijuana stocks seem like a risky investment for the timebeing. Would you be interested in the future when marijuana becomes fully legalized? Let us know in the comments below! If you enjoyed this post, check out these posts about investment crimes: Mt. Gox Filed for Bankruptcy. Will Bitcoin Survive?, Bitcoin Attack: $2.7 Million Stolen, and Bitcoin: Crime's New Best Friend. Also, remember to visit Sprinklebit for more updates and the latest investment tips!