Happy Friday everybody! And welcome back to another edition of Financial Tip Friday! This week were gonna look at another part of your monthly bills that we can cut down. If you couldn't guess from the title of the post, we're talking about your cable subscription.
I can't speak for everyone but for myself, cable has always been an overpriced product that provides me with little value for what I am paying. Unless you're willing to pay for the extended or luxury packages, most basic cable subscriptions are comprised mostly of channels I never watch. And the programming I do watch on TV can be watched through other services that are much cheaper. And then there's the pricing.
According to the NPD Group, a top market research company, the average cable bill cost $86 in 2011 and is expected to rise up to $123 by 2015 and all the way up to $200 in 2020.
Even the most basic of basic cable subscriptions will cost around $30 a month and that will barely get you anything beyond ABC, NBC and Fox. While cable companies advertise and promote their exclusive package deals, they usually fail to mention the additional installation fees and other charges that are incurred when you sign up for those triple play deals that seem a great discount at first. Switching from cable to cheaper, more viable alternatives will help you save a little cash per month, and it will make watching TV shows or movies a lot less of a hassle and more enjoyable.
The Alternatives
What's going to replace your cable subscription? Well there are a plethora of options and combinations that you can choose to move forward with in terms of devices or programs you can purchase to get the same shows at a cheaper price (and with a lot less stress as your cable bill gets more and more expensive)
Netflix/Hulu Plus
These are definitely the biggest no-brainers, I mean, who hasn't heard of Netflix or Hulu by now? Netflix have the fastest growing customer base with about 31.7 million paying members, outpacing its competitors such as HBO and Showtime. On average, your monthly Netflix bill can range anywhere from $7.99 to around $20 per month (Depending on what kind of options you want), while Hulu Plus will cost you about $7.99 per month. They both have most of the major TV shows on the cable networks, excluding the HBO, Showtime and Starz shows. The one major difference between the two is that Hulu Plus has a more up-to-date video archive with recent episodes, while Netflix has a greater archive to choose from for your favorite shows. For those of you who need to keep up to date with the latest episode of Family Guy or Modern Family, then Hulu Plus would be a great alternative to cable. If you just want as much content available in terms of TV shows and episodes and don't really care if you're watching the most recent episode of Breaking Bad, then you may want to choose Netflix. Or if you're feeling lucky, why not get both?
Amazon Prime
Now this one caught me by surprise. Call me ignorant, but I had no idea Amazon Prime was anything more than a way to get better shipping rates when you purchase items on Amazon (whoops). They have an archive of over 41,000 movies and T.V. episodes available for you to watch, and after looking at the selection, it seems that they have a comparable if not better movie selection that Netflix and they have a majority of the major TV shows available. What was really awesome for me though was the fact that you also get to "borrow" one kindle book per month with the purchase of an Amazon Prime subscription. I like reading and being able to get a free book for a month from over 300,000 titles to choose from is something I could definitely get used to (I did check and yes you can download the Game of Thrones books). Unlike Netflix and Hulu Plus, Amazon Prime is a yearly subscription of $79 per month. Now i know that $79 looks closer to what you pay for your cable bill, but if you actually break down the cost over a twelve month span, Amazon Prime comes to about $6.58 per month. They also give you a free month of Amazon Prime if  you sign up which is pretty nice way to try out the service. If you click on the image of Amazon Prime it will direct you to the site to set up you free 30 day free trial.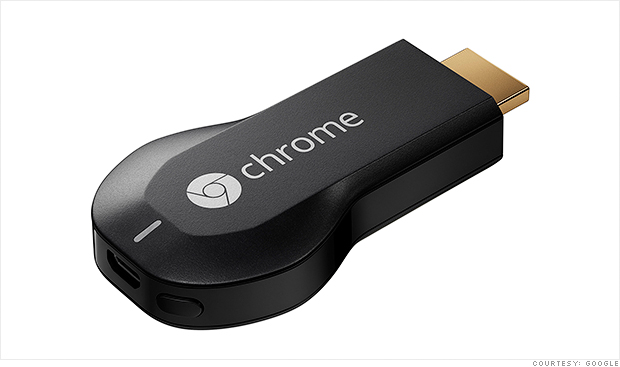 I LOVE Google Chromecast. No seriously, I can't find a reason why you shouldn't try and utilize this awesome little device. For the one time cost of approximately $35.00 and a relatively quick setup on your laptop, you can display whatever's on your laptop screen right onto your TV screen. Awesome right? Depending on what kind of video and media content you have on you laptop, you could stream live sports, movies and tv shows you downloaded, and make your TV a giant personal laptop screen. Now there are a variety of implications that come with the ability to stream content from you laptop and have it appear on you TV. I won't go into further detail on how you can utilize Chromecast, but from firsthand accounts I know that this little device the size of a flash drive has made watching your favorite shows or programs much easier and a lot cheaper than paying for cable.
Even if you choose to buy all of these alternatives to cable, the cost of those monthly or one-time purchases will still end up being less than your cable bill. From talking to people who have switched from cable to better alternatives, it seems like the value of cutting the cable stems from more than just the amount of money you could save. Less or no commercials, the ability to choose what episode or what movie you want to watch without looking at TV listing, and no hidden fees that cable companies always try to throw on your monthly bills convinced me that you don't need your cable. Screw the cable company and cut your cable.
Liked this week's Financial Tip Friday? Check out last week's Financial Tip Friday on avoiding airline fees here!